Peanut Butter and Honey Ball Recipe
Snack Attack: Peanut Butter and Honey Balls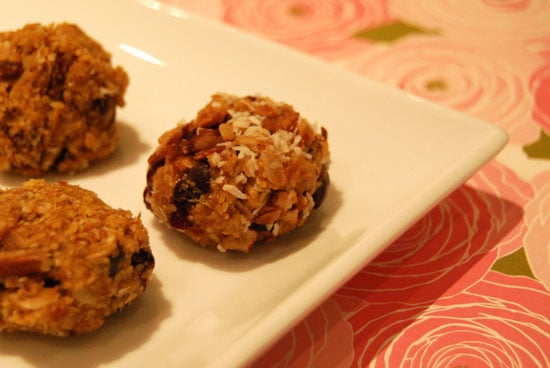 If you're a peanut butter lover, I've got a snack for you. Chock-full of protein, iron, and fiber, these tasty treats are delicious sources of healthy nutrients, but they're also bursting of flavor. Discovered on one of my favorite new websites, 100daysofrealfood.com, this small and powerful snack is made without the help of any processed foods.
Sound enticing? Come check out the simple recipe!
Peanut Butter and Honey Snack Balls
Ingredients
1 cup peanut butter (an all natural PB is recommended — the only ingredient necessary is crushed peanuts)
1 cup honey
3 cups rolled oats (oatmeal)
1 cup of nuts or dried fruit (or whatever your heart desires)
Crushed nuts, granola cereal, or unsweetened coconut
Directions
Mix the first four ingredients together thoroughly. Form them into balls (makes about 10-12 depending on size) then roll them in the crushed nuts, granola cereal, or unsweetened coconut. Serve or refrigerate.
Information
Category

Snacks

Cuisine

North American
While I love the recipe as is, you can adjust it to suit your taste buds. Add to the goodness with flax seed, dried cranberries, or even miniature chocolate chips. However you do it, it's sure to be a crowd pleaser.
Recipe yields four dozen quarter-sized balls.
Nutritional information per serving: 100 calories; 5 g fat; 0 mg cholesterol; 12.2 g carbohydrates; 2.8 g protein; 4.4 mg sodium; 1.5 g fiber; 7.1 g sugar