Peanut Butter Oatmeal Sandwich Cookie Recipe
Healthy Treat: Peanut Butter Oatmeal Sandwich Cookies
If you're craving a chewy peanut buttery treat, this might just become your new favorite cookie. While a cookie is still a cookie, this recipe offer a slightly healthier goody. The chewy oatmeal cookie coupled with the creamy peanut butter and mashed banana mixture makes a perfect flavor combination. The only downside to whipping up a batch of these cookies is you may find it impossible to hold back from eating the entire batch. Plus, it's National Peanut Butter Month, so get baking and celebrate.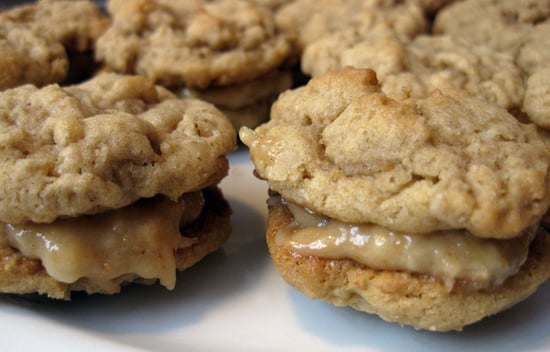 Peanut Butter Oatmeal Sandwich Cookies
original recipe
Ingredients
For sandwiches:
1 1/2 cups whole wheat flour
1 teaspoon baking soda
1 teaspoon salt
1 cup vegetable oil
1 cup Sucanat (or sugar)
2 eggs
1 teaspoon vanilla
2 cups quick oats
For creamy filling:
3 ripe bananas
3 tablespoons natural peanut butter (I prefer crunchy)
3 teaspoons honey
Directions
Preheat oven to 375° F. Lightly spray a cookie sheet with cooking spray.
Mix flour, baking soda, and salt in a small bowl and set aside.
In a larger bowl, beat the oil, sugar, eggs, and vanilla until fluffy. Pour the flour mixture and oats into the bowl and mix well.
Place one inch balls of dough on cookie sheets. You'll have enough dough for 36 small cookies.
Bake for 8-10 minutes, removing from oven when the edges are slightly tan. After a minute transfer the cookies to a cooling rack.
While the cookies are baking and cooling, prepare the filling. In a bowl mash the bananas with the peanut butter and honey.
Place a dollop of filling on one half of the bottom of a cookie and then top it with another cookie.
Makes about 18 sandwiches.
Information
Category

Desserts, Cookies

Cuisine

North American