Photo of Anna Paquin Drinking Kombucha
Anna Paquin Drinks Kombucha; Do You?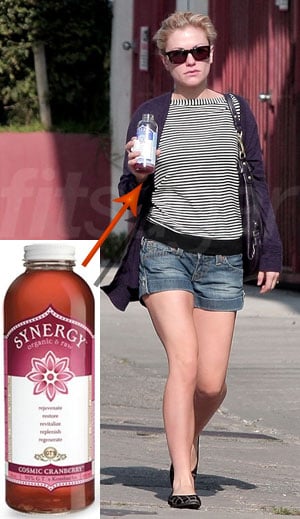 True Blood star Anna Paquin was spotted sipping a Synergy drink on her way to a meeting in Venice, CA. Can this drink replace the get-up-and-go effects of a cup of joe?
Synergy beverages are made with mostly raw organic kombucha and five percent real fruit juice. Sometimes referred to as a tea, kombucha is not brewed from mushrooms; it's a colony of bacteria and yeast, which is added to tea or, in this case, fruit juice and allowed to ferment. Kombucha has been used for centuries throughout the world as a health tonic since it contain beneficial probiotics, enzymes, and antioxidants. According to Mayo Clinic, "health benefits attributed to Kombucha tea include stimulating the immune system, preventing cancer, and improving digestion and liver function." The thing is, though, there isn't any scientific data performed on humans to back this up, but that also doesn't mean it won't benefit the body.
So while kombucha won't necessarily "restore and rejuvenate" Anna's body, I guess it's worth a try. Tell me, do you drink kombucha for health benefits?