Physique 57 Releases Volume 2 of Hit Workout Routine
Get Kelly Ripa's Arms With Physique 57's Latest DVD Collection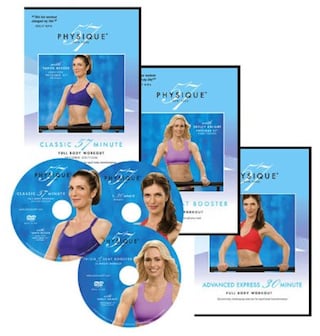 I've never had the pain pleasure of taking a Physique 57 class — partly because the classes are only offered in Los Angeles and New York and partly because I'm scared of my legs publicly buckling in a certain pose. Well forget both of those excuses, because I've just learned that the Physique 57 3-Disc Workout Series Volume 2 ($50) is now for sale, which means I can start working on my moves from the comfort of my own home.
Wondering what's different from the previous version? Volume two is said to offer more choreography and challenging moves and includes an additional 30-minute thigh and seat booster workout. Kelly Ripa constantly sings the praises of this workout routine, so it'd be interesting to see if the at-home workout holds up to the studio version. Here's what Kelly had to say about her experience with Physique 57:
I am totally hooked on this sculpting class I discovered at [New York City gym] Physique 57. It's transformed my body in ways I never thought possible. I'm a short person, but I'm becoming longer and leaner. The class works your glutes, your abs, and your obliques. It's all about building muscle, then stretching it out.
If you really want to lengthen and tone, you may also want to check out the Bar Method Dancer's Workout DVD.
You can view a trailer of the Physique 57 Vol. 2 workout after the break.