Pics of Slim Fast Wedding Ads
Slim Fast Wedding Cake Topper Ads: Cool or Not?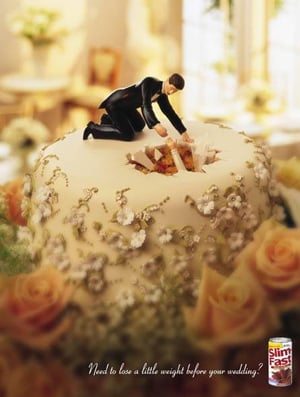 Losing weight before a wedding is a big deal for a lot of brides. And judging from these ads, it's something that Slim Fast knows well. With a tagline that reads,"Need to lose a little weight before your wedding?" the three different ads show a cake topper where the bride is in an uncompromising position. In one she's gotten so heavy she's fallen through the cake, and in another we see that she's ripped the backside of her dress. While none of these situations are funny IRL, something about using cake toppers gives it a bit of humor. What do you think . . .
New brides, pay attention! We'll be bringing you tips on how to prepare your body for the big day, but we want to hear what you've been doing to stay in shape too. Head over to the FitSugar Community and post your wedding workout tips, or, if you're already hitched, how did you get healthy for your big day?