Pictures of Anna Paquin and Stephen Moyer on the Rings in Santa Monica
Anna Paquin Makes Like a Gymnast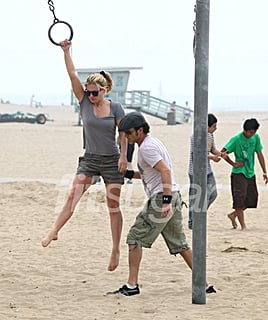 After biking along the Santa Monica beach boardwalk, Anna Paquin and Stephen Moyer stopped at Muscle Beach for a little gymnastics action. Seeing Anna fly through the air on the swing-a-ring set makes us think that her obsession with Pilates is paying off; that girl has some serious core and upper body strength!
If you live in Los Angeles and haven't taken advantage of the public gymnastics training area along the Santa Monica beach, now is the time. It's sort of like a big jungle gym for adults filled with climbing ropes, rings, pull-up bars, and more. Throw in a bike ride or a surfing session, and you've got an entire day ahead of you.
If you don't live by a public fitness center like the one in Muscle Beach, work out at a playground instead. Monkey bars are great for pull-ups and hanging knee lifts, and the balance beam is a challenging way to practice standing yoga poses. I often use a slide to do tricep dips, or a small jungle gym ladder to do standing push-ups. What's your playground fitness routine?