Pictures of Ellen Pompeo at Choose You American Cancer Society Event
Ellen Pompeo Says "Choose You"
You know the stereotype of the busy woman: she takes care of everyone else in her life and puts herself last on the list. The American Cancer Society has created an antidote to this womanly way of living — the Choose You campaign is here to remind women everywhere to put their health first. And Ellen Pompeo ("I am not a doctor but I play one on TV") is helping to spread the word as the program's celebrity ambassador.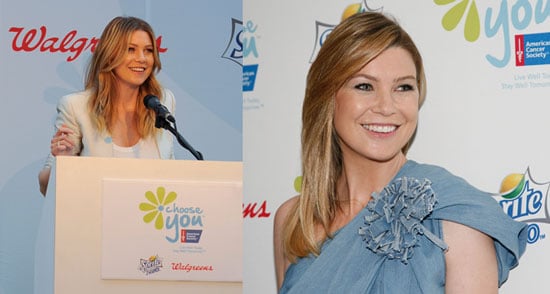 The Choose You program seems especially timely since Mother's Day is just around the corner, and so many moms regularly neglect their health. Which is not good, especially since the ACS estimates that one in three women will be diagnosed with cancer in her lifetime, but that 50 percent of cancer deaths are preventable with simple actions like regular exercise and more challenging ones like quitting smoking.
The Choose You website asks you to make a commitment to your health, and put your money where your mouth is. ACS has partnered with StickK, the motivational web-based program offering individuals legally binding contracts to help them reach their goals. The users pay a set dollar amount to a charity, in this case the ACS, if they fail to reach their goal. You can commit to lose weight, eat fewer sweets, drink less alcohol, exercise more, etc. If you fall short, pay. Interesting idea, don't you think?
What will you commit to?