Pictures of Kate Gosselin Running
Kate Gosselin Doesn't Regret Running
A while back, Kate Gosselin was spotted running errands in Skechers Tone-Ups flip-flops, but it looks like that's not all the reality star does for fitness. Excited to reunite with her treadmill after her being voted off DWTS, it looks like she's taking to the streets. Running, whether on a treadmill or the great outdoors, is a great form of exercise, but let's talk form here for a moment. There are a few things I think Kate should work on to improve her technique. I am quite familiar with these little tweaks since I think about them every time I am out for a run.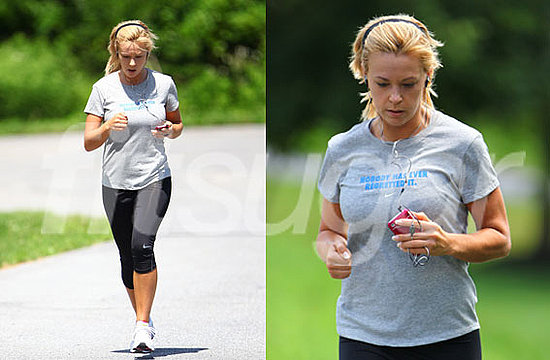 Gaze: When running, you should look straight ahead, not at the ground. Looking down closes your throat making it harder to breathe, and when running, isn't breathing hard enough already? It also helps you stay aware of what is going on around you — cars, cyclists, unleashed dogs, etc. can surprise a runner gazing at the ground.
Arms: Busy arms can waste energy. It helps to focus on the arm motion being just forward and back and limit the side to side swinging across the body action. Your hands shouldn't cross the midline of your body. It is best if the elbows don't bend more than 90 degrees to keep the arms low.
Symmetry: While none of us are symmetrical, holding an iPod with one hand definitely makes it more difficult to keep everything even. I would suggest that Kate invest in an armband to hold her iPhone. Doing so definitely helped me.
I do love that she's sporting the motivational tee: "Nobody Has Ever Regretted It." That phrase gets me to lace up my sneakers, too.