Pictures of the Singer Pink Biking in Berlin
A FitSugar PSA: Wear a Bike Helmet For Goodness Sake!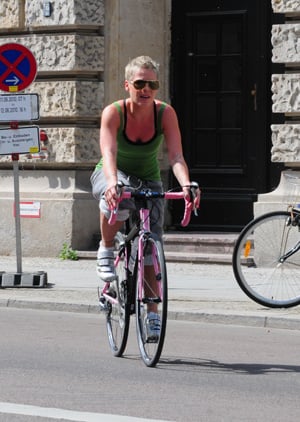 While Pink was in Berlin for her Funhouse Summer Carnival tour, she still managed to take time off to enjoy the city. We LOVE that Pink's idea of fun is riding a bike, especially while traveling, because it's a great way to check out a new city and get in some exercise at the same time. Still, I gotta ask, "Pink, where the heck is your helmet?"
Allow me to just rant a little bit and remind all of you how very important it is to wear a helmet while biking. A bike helmet may not be the most fashionable accessory, but it could be what saves you from sustaining a serious injury if you're ever in an accident. And even though you might be a safe biker, you have to account for the fact that not everyone on the road is. In a sense, a bike helmet is akin to wearing a seat belt in a car. And because accidents happen, better safe than sorry, right? If I still haven't convinced you, take into account a report stating that that helmet laws have cut the amount of bicycle related deaths in children by 50 percent.