Pictures of World Naked Bike Ride
Protesters Take to the Streets For World Naked Bike Ride
The ongoing oil spill in the Gulf of Mexico inspired me to bike more and drive less, but some cycling advocates are taking it a step further and taking to the streets, two wheelin' in their birthday suits. The World Naked Bike Ride simultaneously protests the international dependency on oil while highlighting the vulnerability of cyclists in traffic. It's quite popular in the UK, with many cities participating last weekend. To explain the spirit of the protest, one London rider told the Guardian, "It's a bit of reclaiming the streets. I cycle ten miles a day and London's built up such a car culture."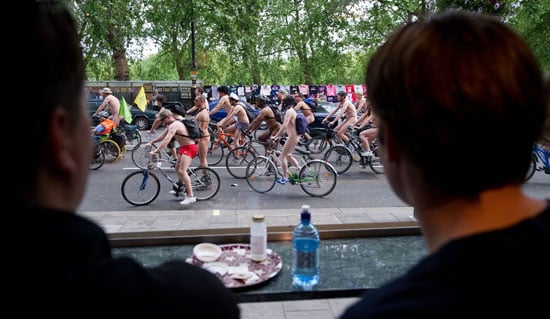 But while there really is no hard and fast date for the actual day of the ride, many cities and towns will be riding in the buff on June 19. As to be expected, the nude cycling protests draw crowds of curious onlookers larger than the protest participants. When it comes to this literally "cheeky" demonstration, I am not sure if the metaphor outstrips the impact of the message. Drivers are, however, more likely to keep their eyes peeled for naked bikers. Just hope all that flesh isn't too distracting to those behind the wheel.
I'd love to hear what you think of this style of protest and if you would or have participated in a naked bike ride. For a few photos (that are NSFW) of the international event read more.