Pilates Moves That Will Tone You For Bikini Season
5 Pilates Moves That Will Get You Ready For Bikini Season
Whether you're dancing your way to dropped pounds or making like a ballerina on the barre, there's no end of trendy workouts to try. But one workout that's shown the test of time is Pilates: the exercises are great for toning and targeting muscle groups, which is perfect for upcoming bikini season. And don't be fooled; these exercises will have you sweating! Here are 5-targeted moves to start working into your exercise routine in time for bikini season!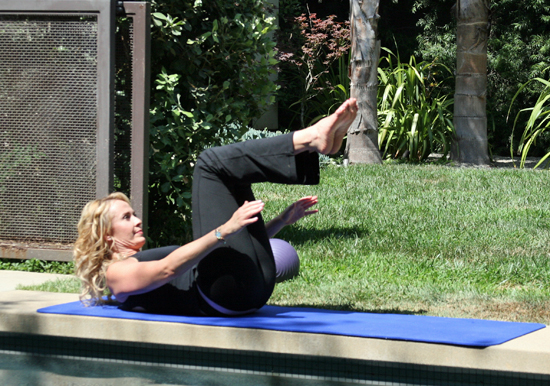 Abs
Pilates is the perfect workout for your abs. It engages the transverse abdominal muscles, which are your deep abs, so these exercises not only help you get a toned stomach but also strengthen the muscle that helps "suck everything in." Try this ab sculpting series from celebrity trainer Nicole Stuart that includes Pilates basics like The Hundred and Single Leg Stretch.
Glutes
Pippa Middleton's love of Pilates may have been the key to her famous backside. Get your own attention-worthy bum with Pilates exercises that target your glutes. Try the Swimming Frog, for example. This move mimics the moves of an amphibian to tone your back as well as your backside. You can also try the move with a basketball between your legs to make it more challenging.
Check out three more moves for three different areas after the break!
Arms and Back
Toned arms and shoulders will set off any bikini top. This simple exercise known as Chest Expansion works your triceps and your back and is easy to do at home — all you need is a resistance band and a doorknob! Bonus: it opens your chest too, improving your posture so you can really rock your two-piece.
Inner Thighs
If you need help sculpting that stubborn leg area, Pilates is for you. Besides stretching your leg muscles and overall sculpting lean legs, certain moves target the inner thighs. Try this three-exercise series that works each thigh one at a time.
Waist
Whittle your waist with this standard Pilates twist called Saw Off Your Big Toe. The seated twist will have you reaching for your big toe with one outstretched arm before repeating on the next side. Bonus: you'll be stretching your inner thighs and lower back as well.