Pink's Ab Workout
How Pink Gets Those Abs
We are pumped to share one of our favorite stories from Self here on POPSUGAR Fitness!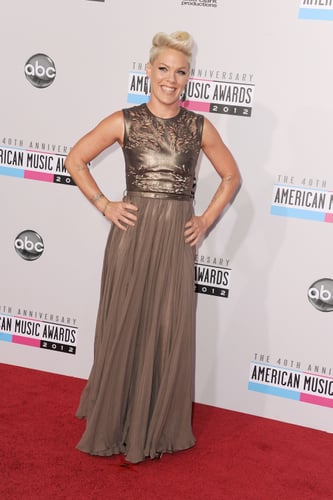 She's got powerhouse pipes, killer style and a Grammy nomination to boot. But what I really envy about Pink is her serious six-pack. (I mean, who isn't excited to see her show her tummy off in another hot gown like this one?!) Lucky for us, the singer's flat abs are far more attainable than her musical talent or pricey designer duds.
"I started working with Pink in 2006 to get conditioned for a very grueling tour which would require deeper core strength than she was used to," says celebrity trainer Juliet Kaska. "Killer abs are definitely her signature body part!"
Her go-to move? Weighted ball abdominal crunches. "She needed to hang from silks while belting out her songs and it was moves like this that got her in shape," says Kaska. Now you can get the same effect in your own living room--minus the acrobatics!
Read on for the move.
Weighted Ball Abdominal Crunches
Source: Juliet Kaska
Lay face up on a mat or workout bench. Place a small weighted ball or 3- to 8-pound free weight between your inner thighs. Lift your feet off the ground, bringing your legs into a tabletop position. On an exhale, curl up lifting your shoulders, head and arms off the ground. Hold at the top and inhale. Exhale again and stretch your legs out in front of you at a 45-degree angle. Inhale and draw the legs back to tabletop. Repeat 10 times. Do 3 sets, staying lifted through each repetition and lowering your head and shoulders back down at the end of each set.
Related Links: