Plank With Leg Lift on Exercise Ball
Triple Duty: Ball Planks With Leg Lifts
If you're looking to work your backside while toning your arms and abs, this ball exercise is for you. Holding the plank gives your arms a nice workout; while keeping steady on the ball, as you lift your leg, kicks your core into high gear.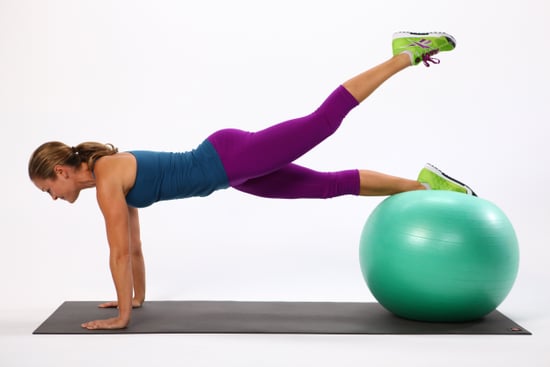 Source: POPSUGAR Studios
Lie your belly onto an exercise ball, and walk your hands out until the ball is under your shins. Your hands should be directly under your shoulders.
Draw your navel toward your spine to engage your abs and stabilize your torso.
Lift your left leg up, squeezing your glute, then slowly lower your leg back onto the ball. Switch sides and lift the right leg keeping your pelvis square. This counts as one repetition. Complete three sets of 10 to 12 reps.