Polar RCX3 GPS Heart Rate Monitor Review
Gear Review: Polar RCX3 GPS Heart Rate Monitor
I love the idea of using heart rate monitors during workouts, but in my recreational running I've only used them occasionally. So I was happy to test out the new Polar RCX3 ($220), sent to me with a compatible GPS device (the G5 GPS Sensor, $140). Here's what I thought about the model.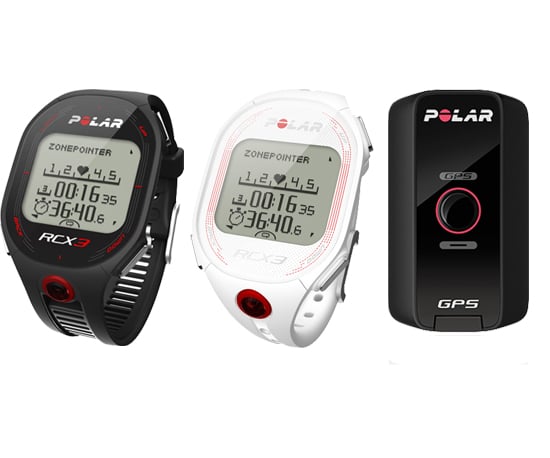 The heart rate monitor itself is comfortable; I've used some models that feel unnaturally rigid, but the thin silicone band of the heart rate monitor never felt uncomfortable during my runs. And like most heart rate monitors, the buttons are simple to use and relatively intuitive. When you first turn it on, you enter your data — age, sex, weight, etc. — and then are ready to go.
The strap was also simple to use; after clipping in the monitor, just hook on and adjust so the monitor fits squarely on your chest. The hook design means it's easy to get on and off while still being secure. Before each workout you need to wet the strap so the sensors register your heart rate and connect with the watch, but the process is easy and quick. Synching up with the GPS device is similarly simple, and once connected, all you need to do is clip on the GPS device (which looks like a small pager) to the same side of your body as you are wearing the watch.
Keep reading to find out more about the Polar with GPS.
During my runs, I found the monitor to be essential for keeping me on pace and under my heart rate max. And since I'm not used to wearing one regularly, the easy-to-read screen — where you can switch between multiple training views that highlight pace, average pace, time, zone, calories, and miles run depending on what's important to you — offered me surprising statistics about my journey. For example, after a five-mile run/walk I was surprised to see that my heart rate was much higher than I thought it would be based on my exertion, possibly from not drinking enough water. Stats like that and monitoring my pace have helped me become a better runner.
The Polar RCX3 also synchs with an online training site so you can upload your data to track your progress and analyze. This was my not-so-favorite part: synching your data with your online profile requires you to download and install software, which wirelessly synchs with your heart rate monitor using the Datalink USB (sold at $55 separately but included with the RCX3). It took a few tries for me to get the synch to work, even when it seemed like it had completed successfully. Once it did, though, I loved looking through all the data of my runs, and both the GPS and pace data were very accurate (I used it when running a half marathon and compared with my official finisher's data and course info).
Another thing not to like? The price. Buying the monitor with the GPS sensor will run $340; fitness trackers like the Nike+ FuelBand — which track similar stats and capabilities and then some — are sometimes hundreds of dollars less. However, heart rate monitors have the advantage of being incredibly accurate when it comes to pace, miles, and calories burned (and offer heart rate data you can't get from those fitness trackers without additional accessories), so if this is important to you, the Polar RCX3 is a good investment.