Pomegranate Health Benefits
How Pom Seeds Keep You From Overeating
Antioxidant-rich pomegranates deserve to play a role your Fall diet. It might be a bit of a process to seed the pomegranate fruit, but its tart and juicy arils, the edible seeds that come from the fruit's "shell," contain a big helping of nutrition.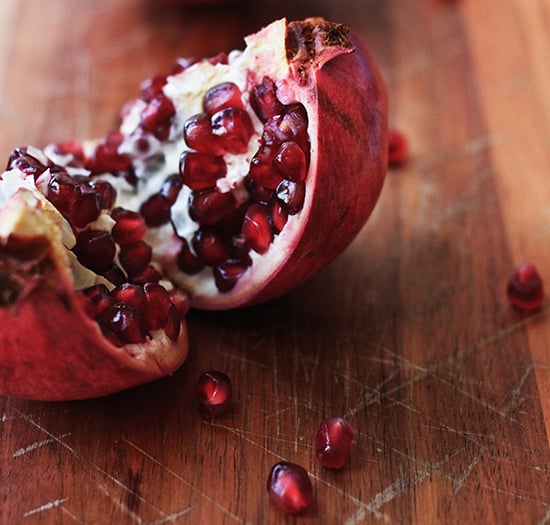 The Benefits
Immunity boost: To prevent sickness, vitamin C is one of the essential vitamins your body needs. Instead of overloading on citrus fruits, you'll be glad to know that the seeds from one pomegranate account for nearly 40 percent of your vitamin C for the day.
Healthy heart support: If you're concerned about eating the right foods for your heart, pomegranate seeds are a must. According to Dr. Joel Fuhrman, not only do pomegranate seeds lower cholesterol, they can "lower high blood pressure and increase the speed at which heart blockages melt away."
Overeating prevention: For being so small, pomegranates are surprisingly high in fiber — one of the most important nutrients for sustainable weight loss. Since high-fiber foods keep your body satisfied for longer, you'll be less likely to overeat if you're full.
Snacking on pomegranate arils on their own is a healthy and refreshing Fall treat, but there are plenty of other tasty ways to incorporate this delicious fruit into your diet. Keep reading to learn more ways to enjoy pomegranates.
How to Enjoy Them!
Sprinkle on breakfast: Pomegranate arils go great with a ton of other fruits and berries, so let them work their tasty tart magic on your breakfast favorites! We especially love these little guys sprinkled on a cup of oatmeal, quinoa, or Greek yogurt.
Be a little saucy: Who says cranberry sauce needs to be saved for Thanksgiving? Serve this cranberry-pomegranate variation that mixes up the flavor and ups the nutritional value of this holiday staple. This recipe will complement a piece of grilled chicken or roasted turkey all season long.
Top your veggies: Skip the nuts on your favorite roasted veggies, and top things off with some fresh pomegranate seeds instead. They're especially delicious on roasted carrots or roasted brussels sprouts.
Drink that juice: While eating the pomegranate arils are the best way to reap their nutrients, the juice still offers great benefits. Some preliminary research shows that drinking pomegranate juice might even improve blood flow to the heart.