Pomegranate and Squash Salad
Fall Superfood Salad: Pomegranate Seeds and Squash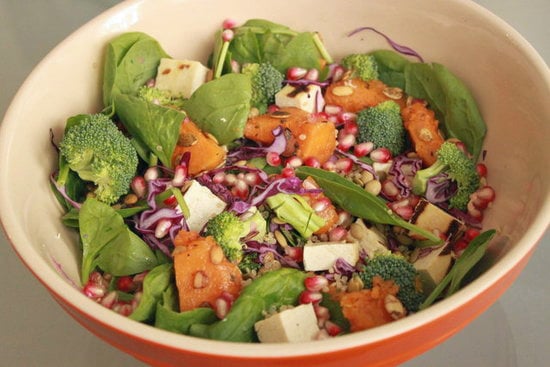 Cool Fall nights shouldn't mean storing up for the Winter. This salad is just as much healthy as it is tasty, and it is loaded with heart-healthy nutrients. All of the vegetables in this salad have disease-fighting capabilities, but the pomegranate seeds steal the show. In addition to fighting certain types of cancers and providing loads of vitamins, pomegranate seeds are known to help lower cholesterol, reduce the risk of stroke, and even aid in weight management. In some cultures it is known as the magic fruit. If you want something autumnal that still makes you feel energized, try this superfood salad and detox your body instantly.
Learn how to make this salad after the break!
Pomegranate Seeds and Squash Salad
From Jaime Young, FitSugar
Ingredients
4 cups spinach
1/2 of a butternut squash (save the rest as a side dish with your dinner)
1/4 cup steamed quinoa
1/2 cup grilled tofu
1/2 a pomegranate
1/4 cup red cabbage
1 tbsp. plain or roasted pumpkin seeds
*balsamic dressing or olive oil
Directions
Peel the squash and remove the seeds. Dice the flesh into 1/2-inch-thick pieces and boil 15-20 minutes or until soft. Your local grocery store may have premade butternut squash this time of year, so check the warm food section. Let the quinoa cook at the same time per instructions on the package.
Slice tofu into 1-inch-thick cubes and set aside.
Cut pomegranate in half and peel the membrane away, collecting half a pomegranate's worth in seeds.
Combine all of the ingredients into a large salad bowl and toss with the dressing of your choice.
Serves two.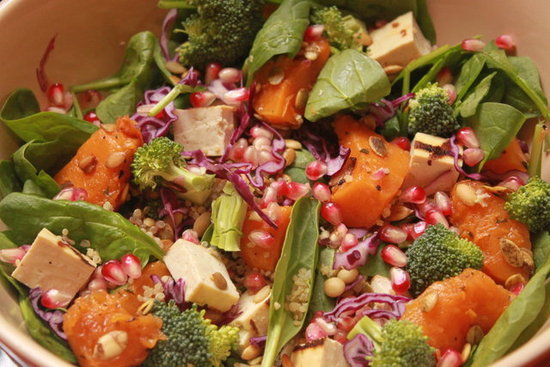 Nutritional Source: Calorie Count
Information
Category

Grains , Salads

Cuisine

North American