PopPhysique DVDs Review: Original Butt School and More
At-Home Cardio Butt School: Review of PopPhysique DVDs
From the provocative DVD covers to the tagline "cheat on your gym," the sexiness in the production value of PopPhysique's new DVD workouts gives no indication of how difficult the exercises truly are. But while many of the moves will leave you quivering, it won't be from heated excitement; it'll be from muscle fatigue.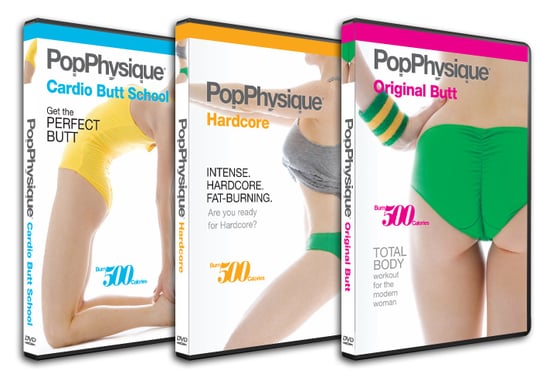 PopPhysique is the latest barre class to hit the fitness scene. The classes combine classic Pilates moves, yoga poses, and micropulses to sculpt the legs, glutes, abs, and arms. Although most of the varieties of barre classes are somewhat influenced by ballet, the shapes and exercises found in PopPhysique feel much more modern and contemporary. These workouts blend the micromovements of barre with larger movements so the workout is more physically satisfying (I tend to find all the small pulsing a little tedious after a while). If a studio featuring this latest variation of barre toning hasn't popped up in your neck of the woods yet, then you can try the workout with the set of three PopPhysique DVDs ($30).
Although the two DVD instructors are dressed in trendy, revealing workout wear, both are incredibly earnest. These gals want to help you get toned from your triceps to your toes. (Seriously. There is a lot of pointing your feet in these workouts. My soles felt worked.) Plus, the only props you need for all three workouts are two- and three-pound weights and a stable chair.
Keep reading for the lowdown on each of the three DVDS.
Original Butt
With a running time of 55 minutes, this workout tones all the areas you're looking to tighten: arms, abs, legs, and seat. The workout is fun, moves quickly, and includes push-ups! I also appreciate that stretching is scattered throughout the workout. The instructor gives clear descriptions of each move, and while she is certainly enthusiastic, she can get a bit shrill.
Cardio Butt
This workout moves at a slightly quicker pace to help keep your heart rate up. It's only about 40 minutes, but you will work every part of your body thoroughly with this DVD. The workout is taught by two instructors, with the gals switching halfway through. This change actually helps perk you up as your enthusiasm for toning your butt starts to wane.
Hardcore
This 65-minute DVD is by far my favorite. It is hard, but the moves are fun, and the techno beats keep you going. The instruction is very clear throughout the workout. The ab section on this workout is intense and really hits those hard-to-reach middle abs. The seat work is great too; you work your glutes at every angle imaginable.
While I enjoyed the workouts, I am dubious of the claims to caloric burn in these workouts. The covers of all three DVDs state that they burn 500 calories, and although I haven't worn a heart rate monitor while doing them, I am almost certain I didn't burn anything near that amount. Regardless, I will keep using the PopPhysique DVDs for fine-toning those trouble zones.