Portable Egg Breakfasts
3 Egg-Cellent On-the-Go Breakfasts
Think egg breakfasts are only for quiet mornings? Guess again. These three healthy breakfasts are perfect for anyone who's always on the go. Whether you follow a gluten-free, Paleo, or vegetarian lifestyle, there's a delicious pick on this list to suit your dietary needs.
Gluten Free: Turkey Sausage, Broccoli, and Egg Muffins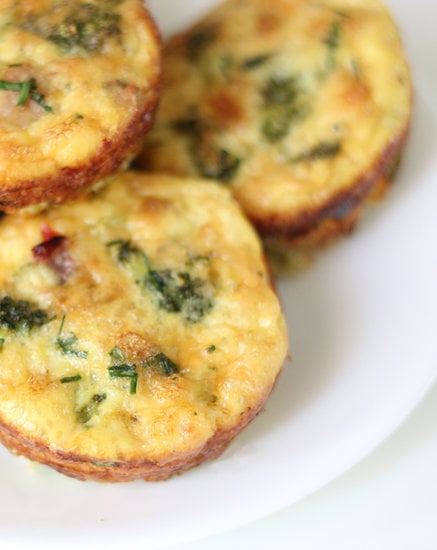 Photo: Leta Shy
Bake up a batch of gluten-free egg muffins over the weekend, so you can skip the fast-food lines all week long! At 150 calories and 12 grams of protein, this light and tasty breakfast offers a balanced and hassle-free start to your day.
Paleo: Baked Eggs in Ham Cups

Photo: Lizzie Fuhr
Tasty ham and egg cups take just 20 minutes to cook and require almost almost no prep. This two-ingredient breakfast is delicious hot, but you can always bake ahead and keep in the fridge for the week.
Vegetarian: Spinach and Feta Wrap
Photo: Lizzie Fuhr
It can be hard to give up your Starbucks spinach-feta wrap — I understand this pain. However, this homemade breakfast wrap is lower in calories and carbs, and free of preservatives. Cook up a batch of these wraps ahead of time, freeze, and reheat when you're ready for breakfast.