Post-Workout Meal Ideas
Speak Up: What Do You Nosh on After Working Out?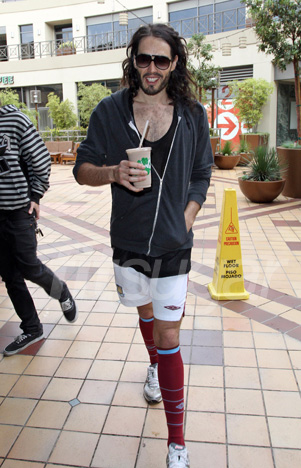 After working out, it's important to eat something. Your body needs to replenish itself and repair any muscle damage, which occurs when you strength train. It's also important not to wait too long to eat. Try having a snack within 45 minutes of your workout — your muscles are more responsive to insulin and your body can process carbs more efficiently immediately after a workout.
After the gym I always try to eat a snack or meal that's high in carbs, low in fat, and contains protein. My favorite post-gym snacks are a big salad, eggs, or a healthy turkey sandwich. In a pinch, I'll eat an apple to hold me over until dinner. Many experts suggest chocolate milk is the perfect post-workout snack. Russell Brand — fiance to Katy Perry — opts for a liquid snack post-workout.  This week, he was seen leaving the gym in some seriously sporty socks with what I'm hoping is a nutritious protein shake.
How about you — what's your post-workout snack or meal?