Postpartum Workout Tips
New Mom Hilary Duff Hits the Gym 1.5 Weeks After Giving Birth
Hilary Duff gave birth to Luca Cruz less than two weeks ago, but is already exercising to get her prepregnancy body back. She hit the gym Saturday and tweeted, "20 minutes on the elliptical seems like an eternity!!! What the hell…"
Though many obstetricians recommend holding off on exercise until six weeks postpartum (longer for a C-section), every woman is different. Here are some workout tips for brand-new moms.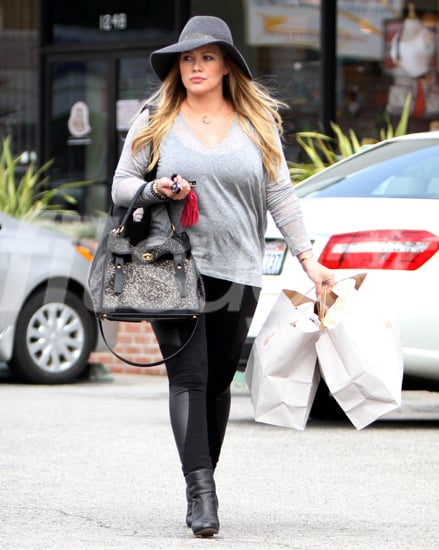 Check with your doctor before exercising: How ready you are depends on how well you're healing. Most doctors recommend avoiding exercise until the bleeding stops, but may give the green light for low-intensity workouts, such as short walks or stretching.
Start off slow: Don't expect your body to run 30 minutes straight like it did before you were pregnant. Aside from the stress of the actual birth, lack of sleep and low energy levels associated with nursing offer new moms little get-up-and-go. Start with low-impact exercise like walking, yoga, or swimming. A 10-minute walk around the block every day for a week (or longer) will feel like plenty. Gradually increase the intensity and length of your workouts as your strength and stamina increases.
Invest in some baby gear: If you find it emotionally difficult to leave your baby, exercise with them. There are hundreds of baby carriers out there to enable you to walk with your baby. I'm a huge fan of the Moby Wrap, since it feels the most supportive on a new mom's often-sore back. If you're not into wearing your baby, or a C-section won't allow for it while you're healing, buy a jogging stroller (walk at first and run when you're doctor gives the OK). Postnatal fitness classes are another great option, not only for exercise, but as a way to connect with other new moms.
Sweat at home: A baby's schedule makes it tough to leave home in the beginning, so get your home gym in order. Fitness videos like Tracy Anderson's Post-Pregnancy Workout DVD will allow you to follow along without having to think. A treadmill, yoga mat, exercise ball, and a set of dumbbells are also good items to have on hand. Working out at home makes it easy to split your workout throughout your day if you need to.
Do what you can: Since every woman's postpartum experience is different, do what your body is ready for. Stitches may put cardio off-limits, so grab some dumbbells and work your upper body while you heal. If your breasts are sore from nursing, skip the upper body workout and do moves that strengthen your legs.
Take care of yourself first: Before even thinking about exercise, make sure you're getting enough calories (especially if you're breastfeeding) and getting enough sleep. It's OK to take these first few weeks (even months) off from exercise so you can bond with your baby and take care of yourself. Remember that eating a healthy diet will also help you slim down, so even if you're not ready to exercise quite yet, you're still doing your body good.