Potato Flyers Review
Food Review: Potato Flyers Snack Chips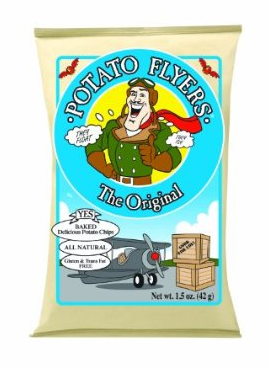 Confession: I'm a carboholic. And in close second to bread, potato chips are my favorite thing to snack on. I try to keep it healthy by satisfying my salty chip craving with popcorn topped with nutritional yeast, but it doesn't always work. Enter Potato Flyers — a light crispy snack that is a perfect stand-in for regular potato chips.
When Fit was sent a few samples, I was excited because I could tell from the bag that it was from the Pirate's Booty folks. And since Pirate's Booty is another favorite snack of mine, I had high hopes for Potato Flyers. The label on the original flavor sounded promising: a snack-sized bag of Potato Flyers contains 120 calories, 5 grams of fat, and 15 percent of the RDI of vitamin C. Most importantly, I can pronounce all of the ingredients: potato flour, potato starch, sunflower oil, rice flour, sea salt, nutritional yeast, garlic powder, and citric acid. It's also free of gluten, trans fat, and cholesterol. So far, so good.
Potato Flyers look and taste similar to Popchips — they're light, crispy, and not at all greasy. We tried four flavors — original, sour cream and onion, barbecue, and sea salt and vinegar. Of the four, sour cream and onion was by far my favorite. It had a nice balance of flavors without being overwhelming. And while Potato Flyers don't give the same satisfaction that regular Lay's or kettle chips do, they're still pretty good. They offer that satisfying crunch I love from chips, with the right amount of sea salt to satisfy my craving. And when you consider that Potato Flyers are much lower in fat and calories than regular chips, they become a pretty guiltless snack to indulge on during your day.