Potential Side Effects of Yaz Birth Control
New Birth Control May Offer Cutting Edge Side Effects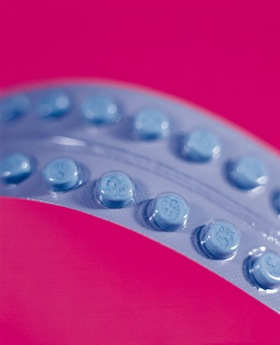 The country's number-one seller of oral contraceptives will soon release a new pill, I learned this morning while listening to NPR, but women who switch may have to swallow greater risks. Natazia features a form of estrogen never used in birth control and comes from Bayer HealthCare, the company facing serious criticism for its last new contraceptive Yaz.
The NPR story explains that Bayer sold Yaz as more than birth control, claiming it could stop moodiness, fatigue, headaches, and acne. If that sounds too good to be true, it was, and the FDA required Yaz to release a new commercial clarifying its exaggerated claims. But many of the women who switched to Yaz had more serious problems to deal with than skin that never cleared up or headaches that never went away. Yaz users, like one teenager currently suing the drug maker, experienced persistent leg pains and terrible chest pains; at one point her leg went completely numb. A blood clot, which eventually moved to her lung, was to blame.
Blood clots have long been known as a side effect of the pill, but a set of researchers found those taking Yaz had 64 percent greater chance of blood clots than those taking pills that have been around for decades, a worrisome rate considering how many women take it. The NuvaRing has raised similar concerns. Even though the FDA does not significantly consider the potential for increased risks when approving these new methods, you definitely should bring them up when talking to your doctor about switching. And of course, you can also look at nonhormonal birth control options.