Pound Drumming Fitness Class Review
Pound Away Calories in Equinox's New Drumming Fitness Class
Dance aerobics may be experiencing a renaissance, but the next trend may be classes where you create your own soundtrack. Earlier this year Crunch debuted its Glee fitness class, based on the musical TV show of the same name, where participants are encouraged to sing while dancing. And now Equinox clubs around the nation are rolling out the group fitness class Pound, with the tag line: "Rockout. Workout." Best described as a blend of both the musical phenomenon Stomp and Pilates, with a pair of weighted drumsticks thrown into the mix, this class is definitely a boredom buster.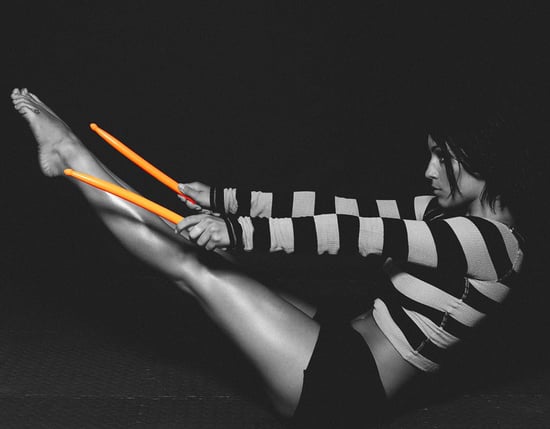 In Pound, traditional sculpting moves are paired with simple drumming patterns, which not only distract you from your quivering muscles but also add to the work. Similar to how the percussive arm motion of the Pilates 100 forces your abs to work harder to stabilize your torso, beating the sticks all around your body during Pound's four-minute ab series amplifies the work. This class is more than just core work though; tired moves like lunges and squats feel refreshed once you're holding drumsticks. In order to drum the floor during the booty-busting routine, you're forced to get your bum closer to the floor. And the lower you go, the harder you work.
I was amazed at how sweaty and sore this class made me. Pound is less dancy than Zumba, but way more fun than a traditional sculpting session and a great way to release your inner rock star. If you like loud music and a party atmosphere for getting your sweat on, this is a class is for you. Pound should be coming to gym near you soon!