Practicing Yoga at Home Via Web Conference
Ancient Meets Modern: Would You Take a Webcam Yoga Class?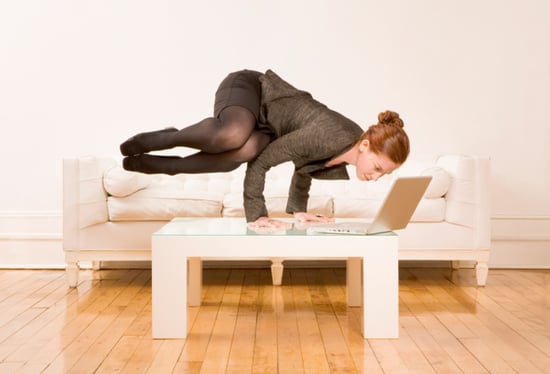 When I think of yoga, it's all about community: the regulars you befriend in class, the shared experiences of awkwardly trying to perfect a pose, and even the aspect of possibly (ew) sharing germs.
When it comes to home practice, however, tranquil solitude reigns. And while DVDs (and sites like Yoga Today) can help guide you, there's no interactivity or feedback from a teacher to help you perfect your pose or modify a position.
Does this mean the time has come for the ancient meditative practice to meet modern video conferencing technology? Sarah Hamilton, a yoga teacher in training, thinks so. She holds free classes from her home and uses the same web conferencing technology that gets her through her high-powered day job to stream live video to your computer or phone, so you can practice along with her. Since it's live, she's able to ask students to give her feedback throughout the class, and if they have a video camera they can aim it to their mat so she can see them too.
While it's not the personalized attention you get at an in-person yoga class, it seems like it would beat just popping in a tired DVD. What do you think? Is a video conference yoga class a cheaper, more comfortable alternative to studios, or should there be a line drawn between yoga and technology?