Pre-Workout Snacks
4 Pre-Workout Snacks That Pack a Protein Punch
Fueling up before a workout is essential; it gives the body sustained energy and also keeps metabolism going at a consistent pace to help burn calories. For everyday workouts, it's best to choose a snack that's around 150 calories or fewer, with a mix of protein and carbs but not enough fiber to cause digestive upset. Here are some homemade snacks that will satisfy taste buds and fuel the body to work out hard and long. To maximize the benefits, we recommend eating these snacks an hour before your scheduled workout.
Strawberry Banana Creams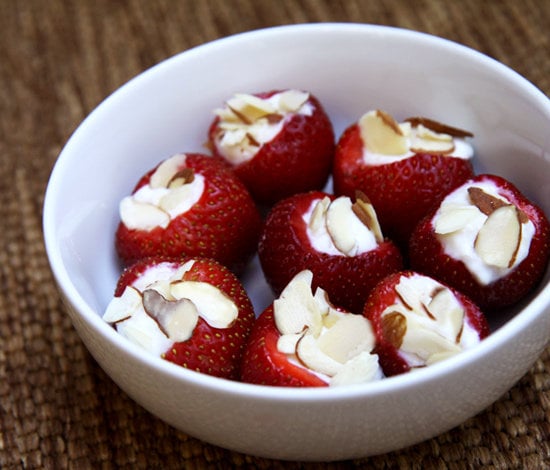 Made with fresh strawberries and Greek yogurt, this refreshing bite-size treat tastes so luscious and sweet, it can even pass as dessert. Enjoy eight cream-filled berries for 145 calories, eight grams of protein, and 23 grams of carbs.
No-Bake Peanut Butter Balls

If you're nuts for peanut butter, you'll love these no-bake balls made with rolled oats, coconut, and all-natural peanut butter. Gobble up two servings for 160 calories, eight grams of protein, and 10 grams of carbs.
Keep reading for two more homemade protein-filled snacks.
Strawberry Banana Yogurt Smoothie

Smoothies are quick to whip up and even easier to slurp down if you need a fast snack. Greek yogurt and almonds increase the protein in this beverage, and if you enjoy an eight-ounce serving, it's 154 calories, nine grams of protein, and 20 grams of carbs.
Gluten-Free Quinoa Pizza Bites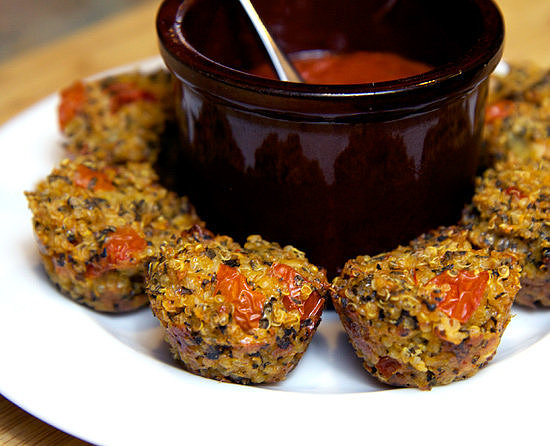 For a savory snack, these quinoa bites contain eggs and cheese, which add even more protein to the whole grain. Pop three bites for 144 calories, eight grams of protein, and 15 grams of carbs.