Prenatal Fitness Tips For First, Second, Third Trimesters
Alessandra Ambrosio's Secret to a Feel-Good Pregnancy: Staying Fit
Victoria's Secret model Alessandra Ambrosio is loving the third trimester of her second pregnancy and has no complaints. Without experiencing the usual discomforts of pregnancy, she told People magazine, "I feel really good. I love this pregnancy. It's been really easy. I haven't gotten really nauseous or anything." The VS Angel's secret to feeling great is keeping up with her fitness routine. She says,
"I've been very active. I've been exercising. I've been going for walks and doing yoga. Playing with my daughter all the time gets me in good shape I guess."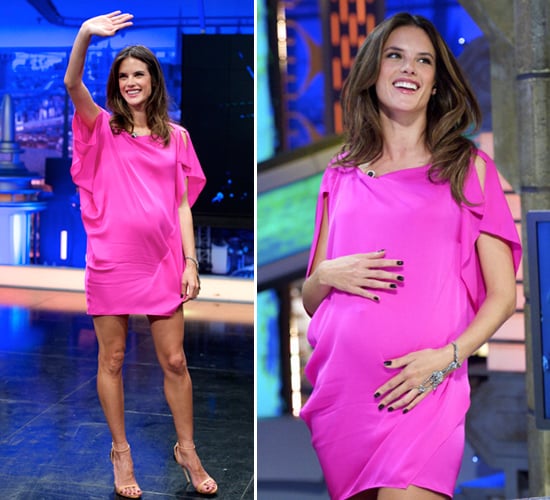 Alessandra practices yoga to stay in shape while she's modeling, but it's also an excellent way to stay strong, limber, and calm when you're a momma-to-be. While it's so important for an expectant woman to stay active during her pregnancy, here are some things to keep in mind during each trimester to ensure your fitness routine promotes a stress- and injury-free pregnancy.
First Trimester
Even if you were exercising regularly before becoming prego, it's important to get the OK from your doctor or midwife before continuing. If running, swimming, biking, hiking, strength training, and doing yoga were part of your routine, go ahead and continue those workouts, just modify the intensity as needed. Now is not the time to do anything new or more intense fitness-wise (it's best to wait till after baby to start training for that marathon). Avoid contact sports or activities that put you at risk for falling such as rock climbing or horseback riding.
Early pregnancy symptoms such as nausea, sore breasts, extreme fatigue, the need to hit the bathroom more often, and hunger cravings can get in the way of your workouts, but it's important to listen to your body. This might mean walking instead of jogging, taking more breaks, snacking during workouts, or taking entire days off to nap instead. Your body is busy at work growing that little one, so don't worry about toning down your routine. Most women start to feel better in the second trimester, so look forward to working out more regularly then.
Continue reading to find out tips for exercising in the second and third trimesters.
Second Trimester
You're finally able to tell people you're pregnant, and you're (hopefully) feeling much better. Take advantage of your newfound energy by exercising. Continue to modify workouts by slowing down your pace, lift lighter loads, do alternative moves (to avoid lying on your belly as well as extreme twisting), keep water nearby to stay hydrated, exercise in well-ventilated areas to stay cool, and be sure to take breaks when necessary.
As your muscles stretch to support your growing uterus, experiencing piercing round ligament pain on the sides of your lower belly is common. Avoid jarring or quick movements and try wearing a supportive compression band. Low back and hip pain is also common so include stretches to target this aching area. Here's a prenatal yoga sequence to open tight hips and alleviate low back pain.
Third Trimester
With only a few months left, your expanding belly may make it harder to move. That coupled with the familiar fatigue experienced in the first trimester and even more urgency to head to the loo (the weight of the baby presses on your bladder) definitely puts a damper on your workout routine, but it doesn't mean you have to (or should) give up exercising. Do what you can and do what feels good. Take long walks, hit a prenatal yoga class, and go for a light swim to keep your muscles limber and strong.