Prevent Migraines With Magnesium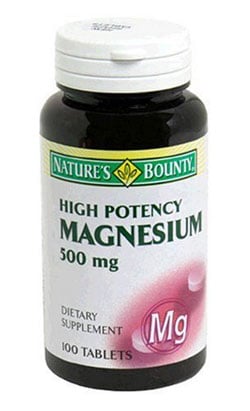 When I asked my doctor about ways to prevent migraines, she recommended I take a magnesium (oxide) supplement. I headed to my closest drugstore and picked up a bottle of Nature's Bounty Magnesium supplement (500 mg), and I've been taking one pill every morning for the last few weeks.
Even though it's been less than a month, since taking the mineral supplement I've been headache and migraine free! This even includes the times that I've had red wine, which is one of my triggers. In the last few months I've also been incorporating foods that prevent migraines into my diet, like topping my yogurt and fruit with ground flaxseed. But I didn't notice a drastic change until I started taking magnesium. Have you tried any supplements to rid you of your ailments? Any other tips for saying goodbye to migraines?