Prevent Pregnancy Pain With the Amom Maternity Support Band
Amom Maternity Compression Band Offers Added Support
Exercise has so many benefits for moms-to-be: better sleep, strength and flexibility, stress relief, ease of pregnancy discomforts like lower back pain, increased energy, and preparation for labor and delivery. You may not be able to do those 12-mile runs like you used to, but you can certainly walk, jog (or do a combo of the two), do yoga, and strength train. One thing you need to be aware of is that as your baby bump expands, the muscles and ligaments holding in your uterus may get strained when exercising. The discomfort is known as round ligament pain.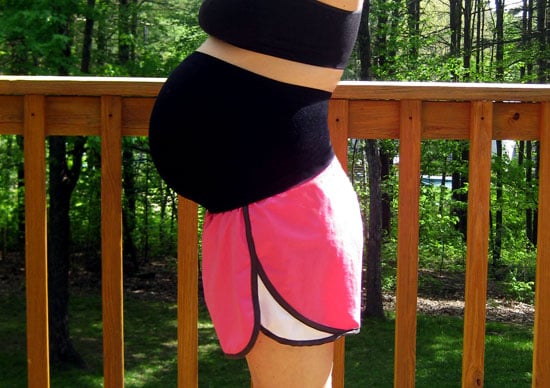 If this sounds familiar, you'll need a little extra support around your belly. The folks at Expecting Comfort sent me an amazing must have for all pregos who exercise: the Amon Maternity Support Band ($22). It's like the Bella Band, but since it's made with breathable microfiber fabric, it offers more of a snug fit without stretching out over time.
You can wear the band folded in half, which I found offered more support when doing higher impact exercise like jogging. Or you can extend the band to fully cover your belly, which I liked when walking. See how the band isn't as wide in the back? It not only prevents bunching, but it also added a little extra lower back support. I love how this band stays put when you're in motion, so you don't have to futz with it while working out. If you're an active prego, this is so worth the $22. I was ready to give up on my jogs, but this band made all the difference.
Check out a video of the Amom band: