Preview of Fila's Ruffle Shorts From Its Baseline Collection
Ruffled Tennis Shorts by Fila: Cool or Not?
I can definitely appreciate feminine touches in sportswear. Heck, I've even been known to run in a skirt. When it comes to fashionable sports, tennis, featuring short skirts and fun dresses, wins hands down. Courtly fashions have evolved over the years; the simple white separates have been replaced by the likes of Maria Sharapova's red dress dappled with 600 Swarovski crystals and Venus Williams's Moulin Rouge-inspired outfit she designed for the French Open. Fila is doing its part to keep the cancan theme alive with its ruffled Fall line of tennis gear, which features these flirty, candy-colored shorts.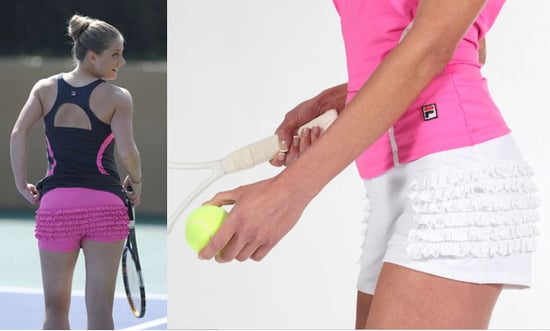 I am all for ruffles, but these shorts do remind me a bit of tights I wore as I child. Then again, if I could bring my childhood vigor back to the court maybe I would be able to ace some serves. The shorts and the Baseline Women's Tennis Collection, which they are a part of, are not yet available — look for them in early September. Until then, please tell me what you think . . .