Products Like FuelBelt and Body Bottle Let Runners Carry Water on Them
FuelBelt H20 Collection: Cool or Not?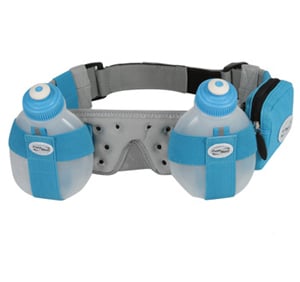 I recently saw someone at my gym wearing a FuelBelt — a sort of holster for water. I felt a little bad because I kept staring at it, mainly because I had never seen one in person, and was curious. Although it seemed a little out of place in the gym, I thought it might be a good accessory for outdoor runs. In fact, many serious athletes are seen wearing FuelBelts come race day.
FuelBelt's latest H20 belt ($40) is "one size fits all" and comes in seven stylish colors. The belt holds two eight-ounce bottles and a small pouch that you can put your ID, phone, or other items in. And if you're not into wearing your water around your waist, there's always the Body Bottle ($25), allowing you to wear a water bottle on your arm. I'm wondering what you think of these types of products . . .