Profile on Golfer Lexi Thompson
What's Next For Teen Golfing Sensation Lexi Thompson
We are excited to share one of our favorite stories from espnW here on FitSugar!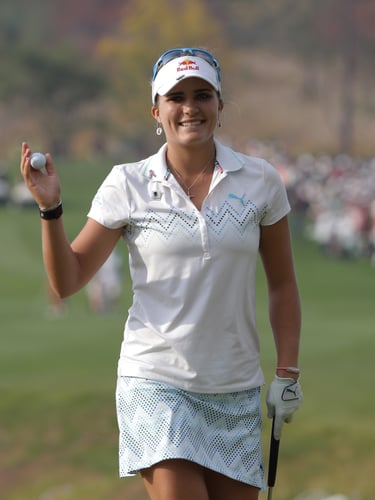 By Shannon Owens
What's next for 17-year-old golf phenom Lexi Thompson after charging through junior and amateur competitions and becoming the youngest player at the time to qualify for the U.S. Women's Open? Being immortalized in a Tiger Woods video game, of course.
"I didn't see it coming, but once my manager, Bobby [Kreusler], told me, I was so excited to get this experience," Thompson said. "I mean to be on a video game ... there's nothing like that."
Except actually meeting Woods.
Watch Lexi behind-the-scenes in "Tiger Woods PGA Tour 14"
Thompson met her golf idol for the first time in August during a private reception for the competitors in the Notah Begay III Foundation Challenge in Verona, N.Y. The 12-player tournament was split into two groups of six American golfers and six Asian golfers for an East versus West challenge. Thompson and Cristie Kerr were the two LPGA competitors invited to compete on the West team.
"I posted a picture of me and him on my Facebook, and a lot of my friends were going crazy saying, 'That's so sick that you met him.'" Thompson said. "They're definitely a little jealous. But he's just a normal guy and a world-class player, obviously."
Life after London — Jessica Hardy
Much like Woods, the juxtaposition of the normal and abnormal seems to be a dominant theme in Thompson's meteoric rise to golf fame.
She is the second-youngest player to win a LPGA tournament after 15-year-old Lydia Ko, who won the Canadian Women's Open this season. But Thompson still sits in rarified air of women's golf. She is just the second woman to wear a motion-capture suit for the "Tiger Woods PGA Tour" video game. Paula Creamer did it two years ago.
Samantha Davies's Solo Odyssey
Read more about Lexi after the break!
Thompson's rising popularity in the LPGA, her top 30 ranking and star appeal made her an ideal candidate for the mo-cap suit, which is designed with hundreds of light reflectors to record every move, said EA Sports marketing director Craig Evans.
"We had her on our radar for a long, long time," Evans said.
Capturing Thompson's trademark power drives and fiery personality is one step of many in popularizing the women's game for EA Sports.
For Thompson, the EA experience was an opportunity for pure fun in her otherwise adult world of responsibilities that come along with being a professional athlete. That's why she didn't hesitate to get up at the crack of dawn to make the two-hour drive from West Palm Beach to Orlando for the two-hour session.
"I played Xbox with my brother, Curtis, a good amount," Thompson said of her earlier childhood. "Probably played an hour or two in between practice."
Curtis' memory of their video game-playing days are a bit hazier. The two were home-schooled from middle school to high school, in part to maximize their practice time in Florida's fickle rainy weather. They lived next to the 12th hole on the TPC Eagle Trace golf course.
Curtis and Lexi would get up early, finish schoolwork and then practice from 9:30 a.m. to noon. After a break for lunch, they would finish the afternoon with a few more hours on the course.
You'll have to forgive the Thompson siblings for not being video game aficionados. They were a little busy dominating the junior and amateur golf world. Their older brother, Nicholas, was building his career in the PGA as well.
North Carolina signees put friendship first
Now the siblings relish the simple things when their schedules, rarely, allow them to be in the same place.
"We spent like four days together this summer because we've been traveling so much," said Curtis, a member of LSU's men's golf team. "We don't get to do much of anything, but when we do, we go bowling."
Or extreme go-carting 40 mph on an indoor track. A girl's got to let her hair down, right?
"They say no bumping allowed, but [that's] not gonna happen," Lexi said with a mischievous grin.
Mark that as one of the few rebellious moments in an otherwise structured, disciplined life. Even fun has its purpose for the budding LPGA star.
Kreusler said Thompson and her parents have reduced her schedule by eight to 10 tournaments a year after she turned pro in 2010 to present more balance. Kreusler has known Thompson since she was 9 years old.
"She was actually going to have more time to be a kid, more time to focus on studies, more time to continue to grow up and develop without the pressure of playing as often as she did as an amateur," Kreusler said.
Thompson's coach Jim McLean sees fun as a necessary part of his protégé's development. Like Kreusler, he has known Thompson since she was a kid and recognized the ubercompetitive, stubborn spirit he'd seen in greats like Woods, Jack Nicklaus and Ben Hogan.
"She was 13 and was beating everybody with this pretty bad grip, and I just sort of determined that this kid has a chance to be something really special. I told her, 'Alexis I think you need to move your grip over,' and she said 'I'm not going to do it. I've been beating people with this grip. I'm not gonna do it,'" McLean said, chuckling.
After three tries and a very creative pitch involving the use of a book about Mickey Wright, Thompson relented. "She hit horrible for about two weeks, but then she was hitting balls like a maniac to figure this grip out," he said. "She has a work ethic almost like nobody you see."
Ryan Garcia's random acts of kindness
Her drive is what makes her great, but it requires her team of supporters to encourage her to let loose once in a while.
Kreusler said he was glad when she skipped out on a tournament to go to her senior prom. Thompson graduated from high school in July and spent some well-deserved downtime watching another teenage phenom, 17-year-old swimmer Missy Franklin, chase Olympic gold in London.
Golf will return to the Olympics for the first time since 1904 at the 2016 Rio games. Thompson's eyes sparkled at the thought of adding another historic chapter to her already spectacular career.
"It's definitely one of my goals to be on the first golf Olympics team," she said. "Representing your country, there's no better honor."
espnW — connecting female sports fans to the sports they love and follow.