Properly Fitting Running Shoes
Don't Break In Your Shoes — Buy Shoes That Feel Good!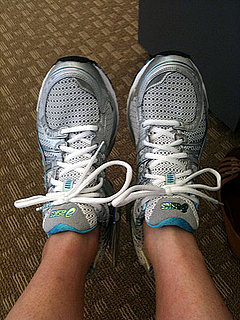 Woo-hoo! A brand new pair of running shoes is especially exciting . . . until you realize they give you blisters, are snug in the wrong place, or are too stiff for comfort. Some say any of those problems can be fixed by simply breaking in your new shoes, but should you really have to break in a pair of running shoes before you use them?
I've heard it could take up to a month to break in a new pair of kicks — a month! That could translate to a lot of miles, and by the time your shoes are comfortably broken in, they could be well on their way to needing to be replaced. Instead of buying a pair of ill-fitting shoes that "need to be broken in," why not buy a pair that feels good straight from the box? After the break, check out a few signs of a comfortable pair of shoes.
They fit differently than your regular shoes. A good pair of running shoes should feel a little bigger than a casual pair of sneakers, with a thumb's width between your big toe and the tip of the shoe.
They aren't too tight in the midsection. Shoe widths vary, and one that's too tight around the arch of your foot can restrict movement and make you feel like someone is squeezing your foot too tightly.
No heel slipping. If your shoes are leather, they're going to stretch slightly. If your heel slips around when you're trying them on, it's only going to get worse.
Well-fitting shoes are obviously important, but well-fitting shoes out of the box are even better. I strongly recommend visiting a running store that analyzes your stride and fits you with the best shoe for your foot — it'll completely take the guesswork out of shoe buying for years, and keep you comfortable and focused on your run, not your feet.