The Pros and Cons of Chewing Gum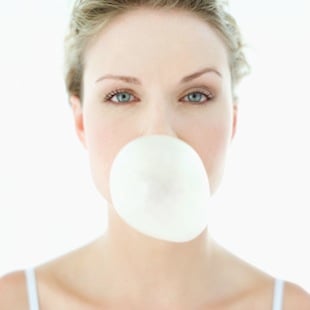 In addition to lip chap and my cell phone, gum rounds out my list of essential purse items. But when it comes to chewing gum in general, how much do we really know about these tasty, rubbery pieces we regularly munch on? Are there any benefits to chomping?
Health Benefits
Heartburn relief: In 2005, researchers found that the saliva stimulated by chewing seemed to neutralize the digestive stomach acid that had leaked into the esophagus. It also seemed to help force fluids back into the stomach and therefore provide heartburn relief. Chewing gum — sugarless, of course — for 30 minutes did the trick and can provide relief for up to three hours.
Kills bacteria and freshens breath: Chewing stimulates saliva production, and the more saliva you have in your mouth, the less bacteria you will have. Gum that is said to be sweetened with xylitol is said to increase salivation and prevent bacteria from replicating in the mouth. In terms of what flavor to go with, it's best to stick with cinnamon, as it can actually help to decrease bacteria in your mouth — sugar-free cinnamon, naturally.
Keep reading for more pros and find out if chewing gum poses any health risks!
Curbs your appetite: A study at Louisiana State University took 115 people who regularly chewed gum and measured their food cravings before and after lunch. The results showed that those who chewed gum three times hourly after lunch, ate fewer high-calorie snacks and reported lower feelings of hunger and cravings for sweeter foods. And who knew that the body burns 11 calories an hour through working the jaw?
Health Risks
Aspartame and sugar content: In an effort to help make gum "healthier" by decreasing its sugar content, many gum companies began replacing sugar with artificial sweeteners like aspartame, sorbitol, and xylitol. Although aspartame was approved in 1996 by the FDA for use in foods and beverages, there still remains many conflicting findings about the controversial sweetener. People who have a sensitivity to aspartame may experience neurological symptoms like headaches, dizziness, skin reactions, seizures, and depression. Fortunately for these individuals, there are gums like PUR that are sugar-free, aspartame-free, dairy-free, gluten-free, and vegan.