Protein Meals Under 500 Calories
4 Refreshing, Protein-Packed Post-Workout Meals For Summer
Intense workouts during already-hot days can make you feel drained and tired. Get your post-workout protein fix while you cool off with these refreshing, muscle-building meals under 500 calories.
Chirashi Bowl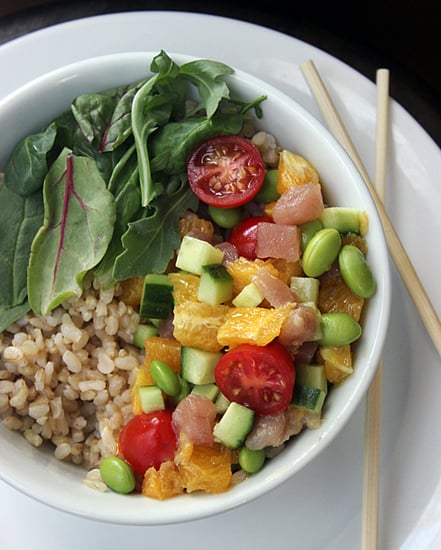 A flavorful dinner that's a cinch to make and hardly requires cooking? Sign us up! Besides making the brown rice (which you can do beforehand) this chirashi bowl requires little else than chopping fresh ingredients and whisking together a tangy dressing. At 402 calories and almost 22 grams of protein, it may just become your go-to meal after those evening workouts.
Quinoa Patties
Make a batch of these quinoa sweet potato patties and enjoy in many versatile ways. Have two alongside a mixed green salad for a 404-calorie meal with 20 grams of protein.
Read on for two more quick, refreshing post-workout meals for Summer.
Panko-Crusted Fish
You need a light dinner after a long, sweaty day that ends with a workout. This panko-crusted fish over kale recipe clocks in at 442 calories and a whopping 37 grams of protein.
Peanut Ginger Soba Noodle Salad
Soba noodles make a great choice when you're craving something Asian-inspired. After a workout opt for this Thai-based soba noodle salad with peanut ginger dressing. A generous helping of creamy peanut butter helps this 424-calorie dish clock in at almost 17 grams of protein.