Puma Mobium Elite Women's Running Shoe Review
Shoe Review: Puma Mobium Elite Running Shoe
There's something about superhero red sneakers that makes me feel like a crazy-fast runner, with the ability to zip up hills with ease and blast through miles and miles without stopping. If you're in the market for some new running shoes for the warmer weather, check out these vibrant sneaks from Puma (that also come in silver white and black) — Mobium Elite Women's Running Shoe ($110)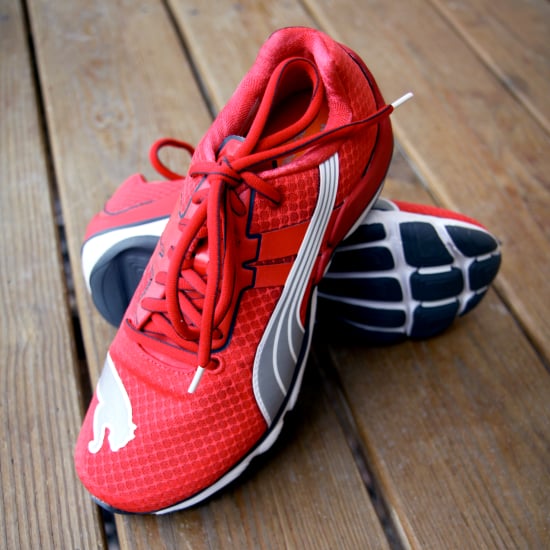 These kicks are made for neutral runners who strike with the midfoot or forefoot, and the first thing I noticed about them is how spongy the sole felt when running. I felt almost gazelle-like with each step, which is one of the best feelings to have when you're sweating it out on a run. The fabric of the shoe is also slightly stretchy, which is one of Puma's main selling points — that this shoe "adapts to you," meaning to your expanding and contracting foot as you run. I definitely appreciated that. The shoe felt roomy, yet supportive since the fabric hugged and moved with my foot.
I also liked that the fabric is made of breathable mesh, which is great for warmer weather or indoor running to prevent sweating that can lead to blisters. For those of you still dealing with temps in the 30s or 40s, I'd hold off until Spring weather arrives or you'll end up with cold feet. Another interesting feature is the elastic Mobium Band than runs through the outside of the sole of the shoe in a figure eight. Just like your foot's tendons, the more force you apply with each step, the more spring the band gives in response.
With the super-snug fit offers one drawback — these shoes can't easily be slipped off after a run without you having to bend over and untie them. It's not the worse thing in the world, but a little annoying when you're rushing to get into the shower after your post-run stretch session. All in all, I'm a fan and would recommend these to fellow runners looking for a supportive, lightweight shoe.