Pumpkin Curry Recipe | Vegan and Gluten-Free
Vegan and Gluten-Free: Curried Pumpkin
Our love of pumpkin recipes doesn't end at Halloween. High in fiber and loaded with vitamin A, pumpkin is an edible delight for the entire season. And it's great for more than just sweets. Try this seasonal temptation with a kick of spice for a main course that will satisfy vegans, gluten-free eaters, and everyone in between.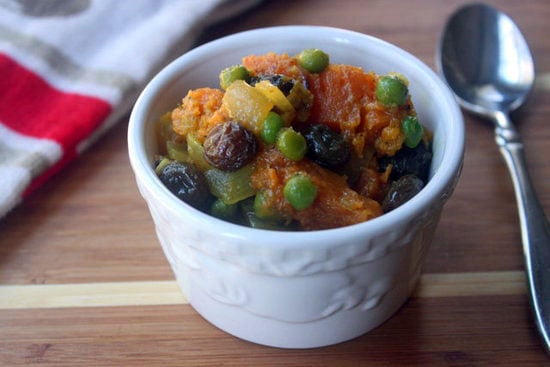 Ingredients
2 tablespoons unsalted butter
1 medium onion, sliced
1 garlic clove, chopped
2-1/2 teaspoons curry powder
1 teaspoon salt
1 teaspoon freshly ground pepper
2 pounds pumpkin, peeled, seeded, and cut into 1-inch pieces
1-1/2 cups low-sodium vegetable broth
3/4 cup raisins
3/4 cup frozen baby peas
Fresh cilantro, for garnish
*Winter squash can be substituted for pumpkin
Directions
Heat butter in a large pan over medium-high heat, add onion, and cook until golden-brown, about five minutes. Add garlic and cook one minute more.
Stir in curry powder, salt, and pepper. Add pumpkin and cook for five minutes, stirring frequently.
Pour in broth and raisins, cover, and reduce heat to medium. After 15 minutes, add peas. Replace cover and continue to cook until pumpkin is tender, five to 10 minutes more. Garnish with cilantro.
Serves 4.
Information
Category

Main Dishes, Curries

Cuisine

Indian