Pumpkin Video Workout
Play With Your Food: Exercise With a Pumpkin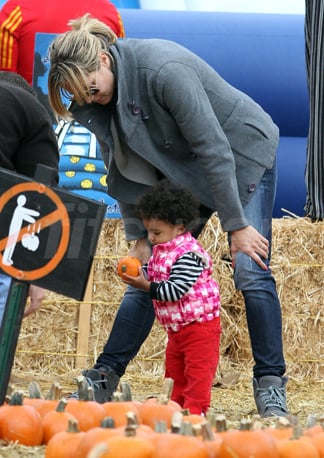 Besides being lined with tasty seeds and being chock full of healthy goodness, pumpkins are also a great fitness tool. Confused? Think of your pumpkin as a medicine ball you can eat.
Heidi Klum and hubby Seal know that visiting a pumpkin patch is a great way to have fun with the fam; they hit up the Mr. Bones Pumpkin Patch in Hollywood on Sunday. I wonder if they know that a visit to a pumpkin patch also makes a great workout. When you're at the patch, you can incorporate a pumpkin into a set of overhead squats or bicep curls. If that's a little showy for your tastes, there's also a great pumpkin video workout that has all sorts of moves you can do in the privacy of your own home — Halloween costume and Olivia Newton-John soundtrack optional.
To see the video and more pics of Heidi at the pumpkin patch, read more.
Will you be doing this workout before you carve your Jack-o'-lantern?