Pure Barre Exercise For Love Handles
Back Extension on the Mat: Tone All Angles of Your Backside
The popular workout Pure Barre has a fresh philosophy on fitness, and it involves more than just toning the tush. The 55-minute class fuses key elements of ballet, Pilates, and weightlifting. Through use of a special barre and small isometric movements, the intense class sessions work to burn fat, tighten abs, and firm arms, glutes, and thighs. The result is a graceful, challenging workout designed to build a lean dancer's body. If you can't get to a class, we've brought one of the studio's most effective moves to you. The burn starts with your seat and then works deep into the love handles.
The Setup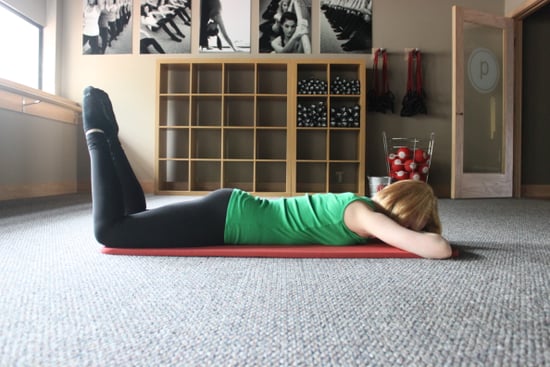 Begin by lying down with your belly on the mat, toes together, and knees apart.
Ground your palms on the floor, placing them on top of one another with your forehead resting on the back of the hands.
Leg Lifts

Squeeze your seat and lower back, floating your toes straight up toward the ceiling and lifting your knees off of the ground.
Take 10-15 lifts with your toes aiming for the sky.
Upper-Body Lift

With your legs still floating off of the ground, lift your forearms up in one motion.
Keep your back and seat engaged while you lift your upper and lower body together. Do this 10-15 times.
See the bonus move after the break.
Active Stretch

Stay lifted as you extend your arms back behind you to grab hold of your ankles.
Relax your shoulders and stay active in the stretch for 10 counts. Keep your whole body engaged, holding your highest position for the best stretch.
Source: Pure Barre instructor Juliann Witt at Pure Barre San Francisco, CA