Purely Elizabeth's Gluten-Free Cookie Mix Review
Purely Elizabeth Gluten-Free Cookies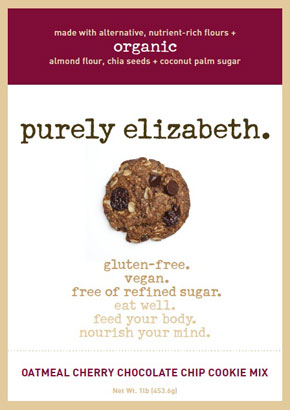 Certain packaged goods companies make cooking unhealthy as simple as one, two, three — just think of Nestle's slice and serve cookie dough rolls and Easy Cheese. Now thanks to innovators like Purely Elizabeth, it's just as easy to be smart and heart healthy as it is to slice and bake. The New York based company is bringing a new face to the convenient cooking category by introducing yummy mixes suitable for those eating a gluten-free or vegan menu. Believers in the motto, "you are what you eat," they pour pure ingredients into their easy made mixes so consumers can proudly claim that they themselves are all natural and organic. 'Cause let's face it — nobody wants to be cheese in a can.
Curious to see if their taste lived up to their great expectations, I tried out the Oatmeal Cherry Cookie Mix ($9/bag). I won't lie — my expectations on the taste level were pretty mediocre. But, much to my delight (and to the delight of my children!) the mix was a hit in my kitchen.
Want to hear more of my review on the mix?
The cookies were a cinch to make — just add a bit of olive oil, applesauce, and vanilla extract and you've got yourself a plate full of sweets. The lack of butter and sugar makes for a more fragile cookie so it's best to follow directions and wait for the cookies to cool before removing them from the tray. (You can substitute vegan butter for the olive oil, which I may be tempted to try next time) Once I allowed the morsels to cool, I had a nice display of the cherry and chocolate oatmeal discs that were begging for bites.
And bite away I did. Unlike most cookies, these don't leave you with greasy fingertips, lubed up lips, and double the calories and fat. Instead, you can take comfort in the caramel pods, the cherry bits, and the vegan chocolate morsels, (which taste just like the real deal), and feel good knowing you've ingested some brain empowering chia seeds, protein, fiber, and vitamins to keep you strong and healthy. Sounds like maybe a Purely Elizabeth cookie a day will be enough to keep the doctor away. Next up on my test kitchen? The Purely Elizabeth Perfect Pancake Mix!