Purple Potatoes Lower Blood Pressure
Study Shows Purple Potatoes Combat High Blood Pressure
I'm a huge fan of those adorable little purple potatoes, and now I have a reason to eat them. A small recent study shows that eating these plum-colored root veggies can lower your blood pressure. When participants added six to eight small purple potatoes (golf-ball size) twice a day to their regular diet, after four weeks their diastolic (the bottom number) blood pressure lowered by an average of 4.3 percent and their systolic (the top number) by 3.5 percent. The scientists said purple potatoes have almost the same blood pressure lowering abilities as oatmeal.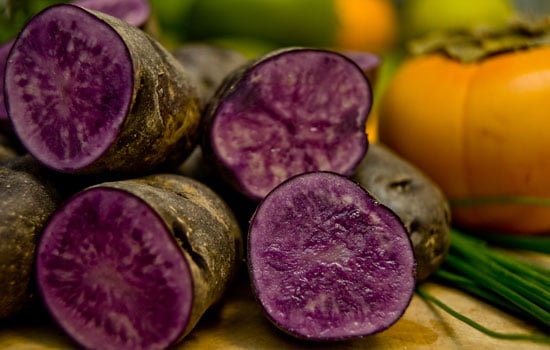 Of course, fried and smothered in butter doesn't count — the taters in this study were microwaved and enjoyed plain (with the skins). Potatoes are naturally high in antioxidants, which protect your body from damaging free radicals, but frying destroys those healthy substances. If eaten sans butter, margarine, or sour cream, a half-cup serving of purple potatoes is only 70 calories, so they're not fattening when enjoyed just as nature intended.
Hopefully this research will help make potatoes of all colors popular again and clear them of their unhealthy reputation. Knowing all varieties contain healthy phytochemicals on similar levels to broccoli, spinach, and brussels sprouts definitely inspires me to eat them.
Source: Flickr User g.p.macklin