Push-Up Series Barre Workout
Proof Is In The Pulse: Push-Up Series
To revamp your routine, mix new techniques in with traditional exercises. This push-up series may require less repetitions, but you'll still feel the burn because you stay active in the muscle group for longer. Try it now for quick blast to your biceps.
Starting Position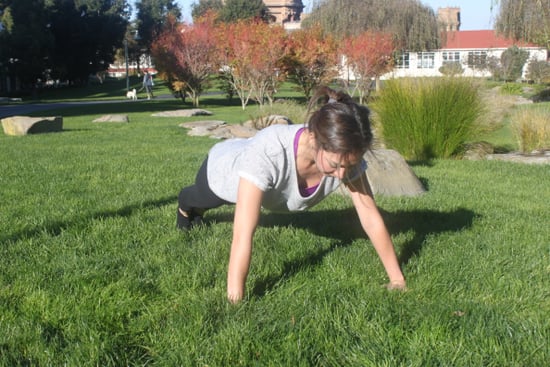 Start by lying flat on your stomach with your legs zipped up together, hands underneath your shoulders. Press off of the floor with the pads of your toes and extend your elbows to straight.
From here, walk your hands back until they fall below your shoulders and place your hands at a diagonal so that they both point inward. Tuck your hips down, creating a long line from the crown of your head to your knees.
The Exercise

Bend your elbows and send your chest down closer to the floor. While you lower, pull your abs away from the ground. By keeping your core engaged during the whole push-up sequence, you will make your body feel lighter. Continue pressing and straightening your arms for 10 to 15 reps.
On your last press to the floor, keep your body halfway there. Make 5 to 10 tiny micropulses one inch lower towards the mat.
Staying in this position, now make 5 to 10 tiny micropulses up and away from the may. Either extend your arms up and skip to the ending position, or stay here for an added challenge of the bonus move.
See the challenging bonus move after the break!
Bonus Move

Staying at your lowest push-up position, hold your body steady in a 10 second plank. This really burns and sculpts your arms after all of those extensions so reward yourself with a stretch.
Ending Position