Push-Ups For Beginners
New to Strength Training? 3 Ways to Modify Push-Ups
The almighty push-up is one of the most effective ways to strengthen and tone your upper body and core. It's extremely challenging, though, so if you're new to strength training or are coming back from an injury or pregnancy, here are three ways you can modify the basic push-up.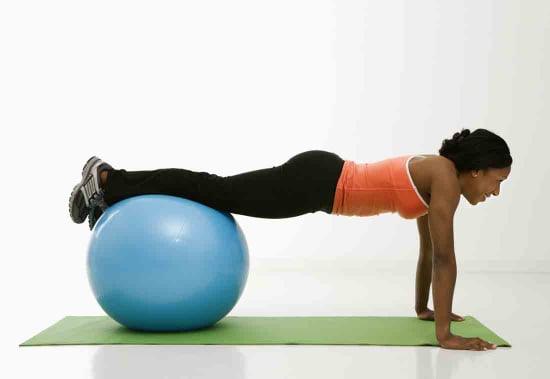 Grab a ball: Elevating your feet can take some of the weight out of your upper body. Lie your belly on a ball and roll forward so your shins are resting on the top of the ball, and do your push-ups in this position. If resting your legs on an unstable ball is too much of a challenge, place your feet on a stool or low bench.
Knee push-ups: Instead of holding your body in one straight line, rest one knee or both knees on the ground.
Use a wall: Facing a wall, stand about three feet away. Reach your arms out, placing your palms on the wall in push-up position. Bend and straighten your elbows, doing a push-up on the wall as if doing a push-up on the floor. If this is too hard, step closer toward the wall. If it's too easy, take a step or two back and lower your hands so your body is in one straight line.