Quick Cardio Workouts: Rowing Machine and Treadmill Incline
Two Time-Saving Cardio Workouts
Who doesn't feel pressed for time between the major holidays? I asked my Equinox trainer, Lauren, for a couple quick cardio workouts to burn up the calories. She gave me a rowing workout — a great machine that always seems to be available — and an incline workout on the treadmill. Even though you might be short on time, you don't need to give up your sweat sessions. Try these quickies.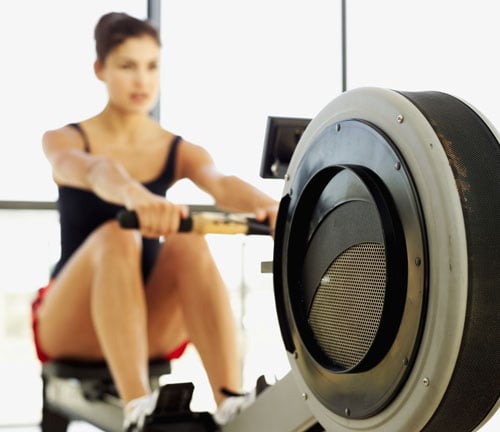 Rowing Machine Workout
Set resistance between two and five; anything higher and you're likely to hurt your back.
Warmup: Row for three to five minutes at 50 percent of max.
Sprint: Row at 90 to 100 percent of max for 100 meters; rest for 15 seconds, repeat for a total of 10 reps.
Cooldown: Row for three minutes, at 50 percent of max.
This is a great workout to add into circuit training for a nice cardio kick. Be sure to read up on tips for using the rowing machine before heading to the gym.
Not feeling it for the rowing machine? Keep reading to check out the treadmill incline workout.
Incline Treadmill Workout
Play around with incline to find a truly challenging level.
Warmup: Walk for three to five minutes at incline of six percent.
One-minute hill repeats: Do six to eight hill repeats with incline set between 12 and 15 percent, with speed set between four to six mph. Rest by walking slowly for one minute between repeats.
Cooldown: Walk for three to five minutes with incline set to three percent.
This workout is really hard for me, but I love the challenge. I build up on my speed with each repeat and once off the machine, I roll my calves with the foam roller. Learn the the calf-rolling technique here.