Race Day Tips
4 Ways to Make Race Day Less Stressful
In all truthfulness, race day is stressful. Between the anxiety, the excitement, and the competition, it can be easy to forget about all the little things. Gearing up for the Nike Women's Marathon in San Francisco, we've compiled a short list of easy ways to keep the nerves at bay and have you on your way (no matter the competition). While you can't control everything, these four things you can. Good luck, and see you at the finish line!
Prepack Your Essentials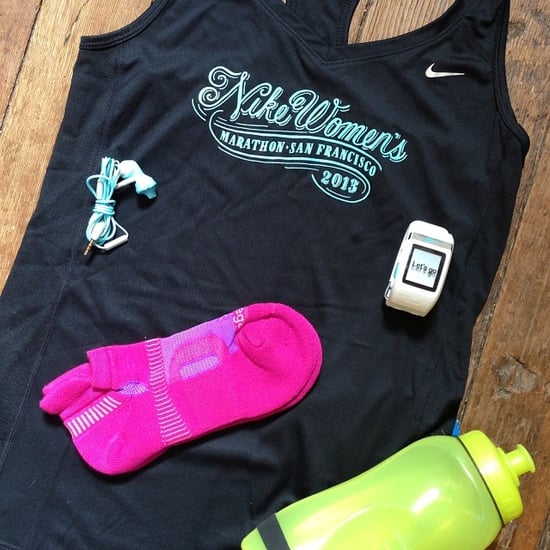 The last thing you want to do on race day is stress over forgetting something (it could mentally ruin your game). A good habit to follow before any race is packing your bag and choosing your outfit the night before. Not only will this prevent scrambling the morning of, but it will also leave you extra time to double check and make sure nothing is forgotten. If you compete frequently, consider creating a checklist that you can refer to before each race.
Take Advantage of Early Registration
Listen up; this tip is key! If you can, try to pick up your race-day packet as soon as possible. This will help you avoid long lines or the day-of time crunch that could make you panic. Check the race website for check-in details and locations. This is something you won't regret.
Eat a Good Meal
Race meals can be tricky: too much of a good thing could weigh you down, while too little can leave you famished. If you know what works, stick to it. Now is not the time for Denny's (save the buffet for celebrating) or trying something new. Keep with what you know, and stick to your usual portion sizes. Whatever you do, avoid these foods. Timing is also key for digestion. If you have an early morning race, factor that in when setting your alarm clock.
Get an Early Start
The old saying "the early bird gets the worm" is completely true on race day. Leave yourself enough time to park, stretch, and get comfortable. A little wiggle room gives you time to adjust if something unexpected does happen. While it may feel like you're waiting around, you've trained really hard for this day — it's better to be safe than sorry.