Rachael Ray's Diet and Exercise Secrets
Rachael Ray Slims Down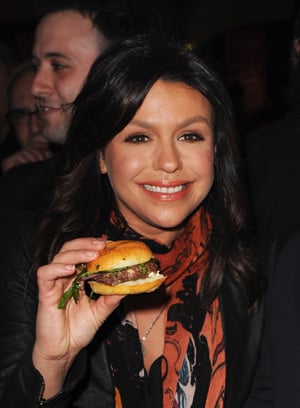 With all the burgers, beers, and EVOO Rachael Ray downs, I've always wondered how she stays so fit — I'm sure constantly being on the go helps. Just this week, Rachael was in Miami hosting her Burger Bash as part of the Food Network's annual South Beach Wine and Food Festival (SBWFF). And while I wasn't as lucky as Yum to sample the fare, I did get to read all about Rachael's exercise secrets in People. That's a worthy replacement, right?
While at the SBWFF, Rachael shared she went into serious exercise mode after having a cyst removed from her throat last year. Post surgery, she started running 3.5 miles every day: "The gym used to be my adversary. But that has all changed. Now, I look forward to it every morning." And when she talks morning, she's not kidding! To allow for gym time before heading to the TV studio to film her talk show, Rachael is usually up before 6 a.m. and raring to go. She runs for 30 minutes before heading to the gym for an hour-long workout on the elliptical. I'd say the gal loves her cardio!
How much weight has she dropped? Learn the details when you read more.
She can't tell you for sure how much weight she's lost — Rachael doesn't count calories or weigh herself — but there's definite progress. She says that her body has changed, her mind is clearer, and she's dropped several dress sizes. She doesn't slack off either. Even while letting the good times roll at the SBWFF, Rachael made a point to work out at the David Barton Gym in Miami.
Hitting the local gym is a great tip to have when traveling yourself — I also pack workout DVDs and a resistance band before hopping on a plane.