Rachel McAdams Has a Blog Called Green Is Sexy
Rachel McAdams Gets Bloggy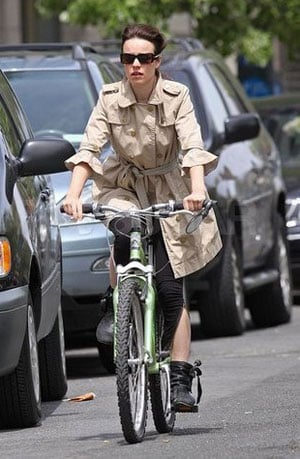 After shaking my finger at celebrities who need help at being more eco-friendly, I was happy to come across Green Is Sexy, a blog full of tips on how to live life to the greenest. And though it's not a new blog, it is new to me.
I spent a lot of time reading the awesome tips, recipes, and profiles, but it wasn't until I got to the "about us" section that I was really floored. Sherlock Holmes cutie Rachel McAdams is one of the founders! I've always loved that Rachel is super into biking and yoga, but this blog has totally upped her coolness points in my book.
I hope that you'll agree with me when I say that being healthy goes beyond counting calories and eating right. For me, living responsibly and being kind to the planet also equals health. This year, I'm trying to make an even bigger effort to do better by the planet, and Green Is Sexy provides a host of tips that make my goal more attainable. A few tips from Rachel's blog that I'm going to try out: resole my shoes instead of throwing them out, make one-pot meals to save on dish washing, and carry cloth napkins with me so I don't have to use paper ones.
What are ways you stay healthy by being more eco-friendly?