Raw Food Daily Diet
How to Eat Raw For a Day
You've heard about all the amazing health benefits when it comes to going raw — including increased energy, improved digestion, and reduced risk of heart disease — but if you're new to the idea, then it can seem pretty intimidating. The raw-food diet focuses on eating unprocessed, vegan foods that have not been heated above 115 degrees Fahrenheit. Heating foods above this temperature is believed to destroy live enzymes, making them less nutritious.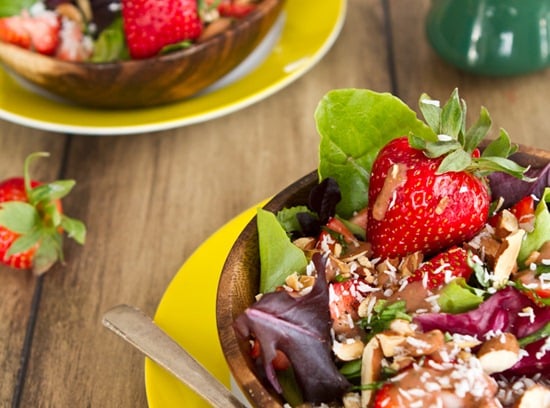 How do you know what you're allowed to eat, and how do you make sure you're getting all the necessary nutrients? I've taken all the guesswork out by creating this simple daily eating plan. Get ready to eat tons of colorful fruits and veggies, nuts, seeds, and soaked legumes and whole grains. Getting creative with fresh herbs and veggie slicers will have your taste buds so psyched that you won't have time to miss cooked foods. If you're worried about getting enough protein, then be comforted by the fact that the variety of nuts, seeds, and fresh veggies you're eating will offer your body all the essential amino acids that it needs.
Breakfast
Smoothie made with one banana, one cup fresh blueberries, one cup fresh strawberries, one tablespoon raw peanut butter, and one cup homemade raw cashew milk.
Morning Snack
Fruit salad made with a variety of seasonal produce, including melons, peaches, berries, bananas, kiwi, and mango. Sprinkle with sliced raw almonds and raisins.
Keep reading for the rest of the meal plan.
Lunch
Hummus and veggie sandwich, making the bread from soaked buckwheat and sunflower seeds using this recipe. Smear the bread with this raw lentil hummus you whipped up using lentils that were soaked overnight, and add home-grown alfalfa sprouts, mixed greens, avocado, tomato, and shredded carrots.
Afternoon Snack
One ripe pear and a homemade fruit and nut bar made with dates, raisins, and raw almonds.
Dinner
Zucchini pasta alfredo using shredded zucchini for the spaghetti and making the alfredo sauce with cashews, garlic, lemon juice, nutritional yeast, and fresh thyme. Enjoy with a side salad made with fresh arugula, spinach, and baby romaine, celery, cucumbers, yellow bell peppers, and topped with this homemade strawberry lemon basil dressing.
Dessert
Raw lime ice cream made with avocado, fresh lime juice, agave nectar, and vanilla extract.
Source: Oh She Glows