Reasons to Drink Water
Reasons to Drink Water: It's More Than Just Hydration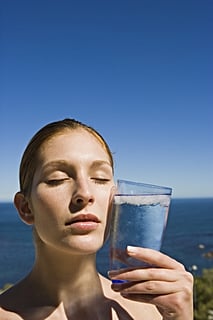 Given this Summer heat, it's likely you don't need anyone telling you to drink more water. But here's a quick reminder of all the benefits of H2O.
Proper hydration is always important, but this is especially true before you exercise. Studies have shown that dehydrated people do fewer reps and tire more quickly. Sounds obvious, but the reason why it happens is interesting: dehydration lowers the hormone levels necessary for building muscles. So make sure you drink enough — find out just how much water you should be drinking here.
Another reason why you should keep that water bottle handy: people who drink enough water end up eating fewer calories than those who don't. If you're looking to quench your thirst, opting for water is better than drinking high-calorie (and high fructose corn syrup laden) sodas. Think diet soda is a good water substitute? Think again — studies have found that people who drink diet sodas actually weigh more — and have waistlines that are 70 percent larger — than those who don't. So reach for the water, and drink up!