Reasons to Splurge on Expensive Yoga Clothes
5 Reasons to Splurge on Pricey Yoga Pants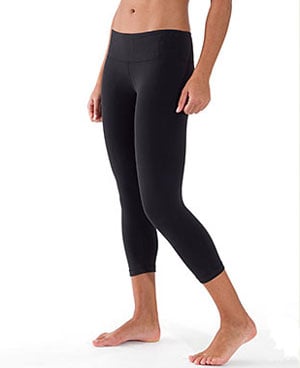 When I began practicing yoga over 10 years ago, I bought a crappy inexpensive mat at a mall kiosk and wore some cheap tank top and leggings I had from my high school gym class days. I quickly realized that if you chintz out on gear, you'll pay for it in the end. My mat began to disintegrate before my eyes, and my pants, well I didn't originally buy them with a hole in the crotch. I saved my moolah and bought a Manduka Black Mat (that I've had since '99), and every year or so I invest in some quality yoga clothes. These Wunder Under Crop leggings from Lululemon cost a pretty penny at $68, but they are completely worth it. If you need a reason to splurge on some pricey knickers you're just going to sweat in, here are five.
You'll save money since your pants will last for years, withstanding daily wear, sweat, and numerous trips through the washing machine. Just be sure to let your clothes air dry so they last even longer.
You won't have to worry about embarrassing indecent exposures from seams that come undone or see-through material that lets everyone know what color your undies are.
The fabric is more technical so it performs well, won't stretch out, and it prevents uncomfortable chaffing and rashes. And when you're sweating during a workout, you definitely want high quality wicking material that dries fast.
Higher prices mean high quality, so they look better, which means you can feel good about wearing them out for a post-yoga class lunch date or grocery store run.
Splurging on expensive yoga clothes will inspire you to work out, meaning you will get your money's worth. Ultimately a pricey pair of capris helps you keep up with your healthy lifestyle and weight loss goals.