Reasons to Start Eating Passion Fruit
Learn to Love: Passion Fruit
Growing up in Hawaii, I was sort of spoiled. In my backyard we had papaya, avocado, coconut, and passion fruit trees. The best part? They were there when we moved in! And in a tropical climate like Hawaii, these trees need little in the way of cultivation — they just kind of hang out and take care of themselves.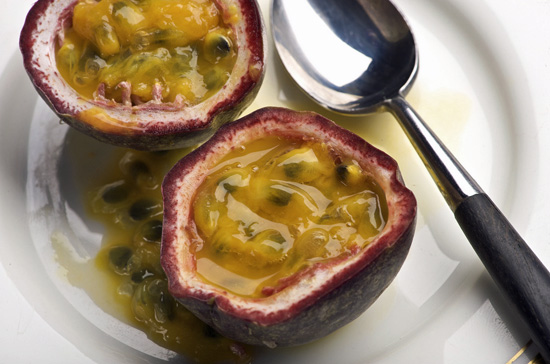 Even though I've moved away from Hawaii, my favorite fruit is still passion fruit, except now it's more of a delicacy than a mainstay. If you've never experienced this sweet, fleshy fruit, now is the time to try it. It grows in abundance this time of year and can easily be found at most grocery stores. (I was able to pick one up from Safeway just the other day.) The purple fruit is antioxidant-rich and full of vitamin A, iron, and vitamin C.
Look for ones that are about the size of a lemon with slight indentations in the skin — this means they're ready to eat. I usually just slice one open and eat the pulp — seeds and all — with a spoon. The fruit has a really sweet, floral scent and a sweet-tart flavor. What will probably be unusual to most people is the texture. On top of being really juicy, the pulp has an almost jelly-like texture and consistency.
If you're not into the texture, passion fruit is great for juicing or as an ingredient in a cocktail, dessert, salad dressing, or a sauce. I also love making jam out of it too. Have any of you tried passion fruit?
Source: Flickr User geishaboy500